2019 was the year of growth for us. I was blessed with wonderful friendships and mentors. The knowledge gained though years of hands on experience and growth is invaluable and I am I so thankful to have people so willing to share that with me when I've needed help.
This year we incorporated Puppy Culture into our program and with it a new found understanding and appreciation for the importance of early socialization in puppies beginning at birth! This has sparked a desire to learn more and has paved the way for a possible new venture. I will be continuing my education in January 2020 by starting the Karen Pryor Academy, Puppy Start Right Instructor Course. I believe so much in early puppy socialization and providing a good foundation for puppies that I hope to not only add this knowledge to my program but to start instructing puppy classes in 2020. I am inspired by the science behind early socialization and positive force free training that I want to share it with puppy parents everywhere to help provide a good foundation for their puppies and preventing many of the typical behavior issues that can lead to frustration and possible homeless pets. Because I believe I can make a difference I will be launching (c) Sit n Stay Pawsitive in 2020!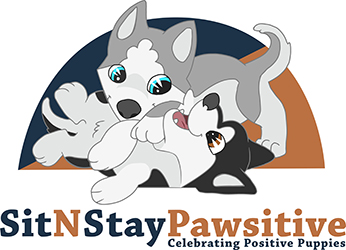 We have made some changes in 2019. Autumn has officially retired from breeding and was recently spayed. She will be wonderful grandma to Winter's pups and a great auntie to all our babies here. Going into 2020 we have 3 females and 2 males intact and the remaining 5 are altered. A reminder that we will be resting our intact girls on their next heat cycle and will not have litters until late 2020. If you can not wait for our next litters I would love to refer you to another breeder that I trust. 2019 was full of blessings and loss. Losing a life sadly happens but is never easy. We love and value each life born here and mourn each loss. 2020 brings more work on kennels, building whelping and puppy rooms, enrichment equipment and a new venture for my son …. bikejoring.
I am so thankful for my family who helps not only to care for our pack and litters but supports me when things get tough and anxiety sets in. I really could not do this without them and surely would not be able to move on to this next step without their words of encouragement and them sharing my excitement. I also want to thank you, our puppy families for your support and for loving our babies and giving them wonderful homes…. you are the reason we do this.
Thank you!!