*Puppies are $950. Discount for returning Supernova Families only.
*Puppies sold as pet only. We do not offer full breeding rights.
*Holding fee (deposit) is $350 and is non refundable (but transferable). Balance of $600 due on or before pick up.
*All puppies come with age appropriate vaccinations and parasite prevention.
*Veterinarian approved vaccination protocol. I administer Neopar at 5 weeks and core vaccinations at 8 weeks. Puppies receive a hands on vet check at approximately 8 weeks, this visit also includes a fecal test. Proof is provided.
*Puppies stay with their mother and siblings for 8 weeks.
*Puppies undergo age appropriate socialization and enrichment activities. Proper socialization means puppies are introduced to novel (new) stimuli daily. This includes but not limited to sights, sounds, textures, surfaces, smells, objects, people. New stimuli is always pared with positive reinforcement.
*Our puppies are raised with Puppy Culture. This program has specific protocols that are age and developmentally specific. We raise confident well rounded puppies with a solid foundation.
*Video and Photo updates posted several times a week, if not daily.
*Live streams with puppy families only. Discuss development, watch protocols, problem solving common puppy issues and more.
*Puppies are introduced to potty/potty box training, crate conditioning and clicker training (protocols coincide with Puppy Culture).
*Puppies leave with a puppy pack that often includes, food, toys, blanket with mom and siblings scent, a variety of samples from different canine companies, medical records, 30 day free Trupanion pet insurance, NuVet Samples, Puppy Culture Exercise Booklet, puppy info packets, training information, etc.
*Puppy also leave with a contract that includes, spay/neuter contract, return clause, health guarantee and genetic guarantee. Pick up takes place off my property.
REMINDERS: We do not do in person visits for safety and security reasons. I post video of our parents, our nursery, and our litters. I am very transparent on how we whelp and raise our puppies. We can arrange one on one in person viewing of our puppies (video chat or zoom) to assist you in your picks. For more info on how we raise our puppies click here!
We ask the 1st and 2nd pick choose their puppy in a timely matter as we have families waiting to choose their puppy and place a deposit.
We are NOT blue eyed breeders. We do not breed for eye color, coat color or coat type! Our focus is on healthy companions. All eye colors and combinations (blue, brown, amber, bi eyes, parti eyes, etc) are possible and with several of our momma's having brown eyes they are not only possible but probable. If you are ONLY seeking blue eyes, we are not the breeder for you!
Planned Pairings
NOTE: All planned breeding dates as well as due dates are estimates. Sires are subject to change. We also reserve the right to skip breeding if the timing is not right for our family to raise a litter of puppies. Because of this we do not take deposits until after we have confirmed breeding has taken place. We reserve the right to take first pick if we produce a puppy that will benefit our program.
Late 2023/ Early 2024
We will not take deposits until breeding has taken place.
*Due dates: All due dates are estimates based on first tie/pairing. Actual whelping date can vary by several days based on the ovulation date. We can not control nature.
Early Spring 2024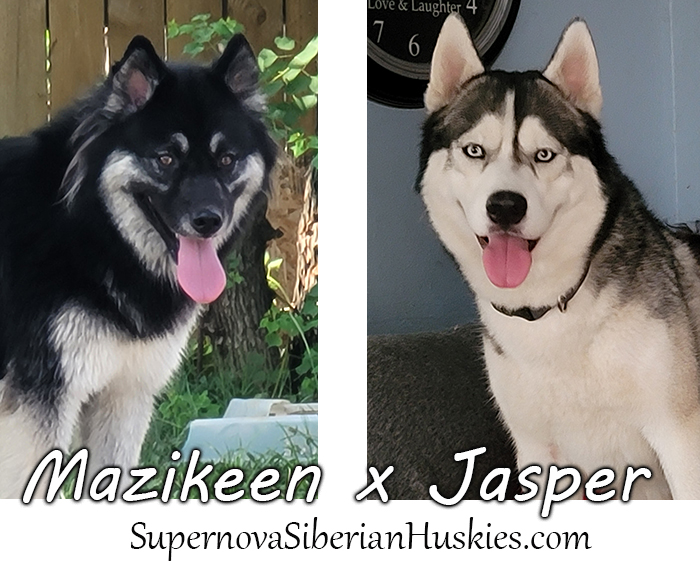 We will not take deposits until breeding has taken place.
(C)2012-present SupernovaSiberianHuskies.com TexasHuskies.com Do not copy or repost without written consent.