*Pups $950 (ckc or akc limited registration) (spay/neuter contract) Discount for returning Supernova Families only.
*Holding fee (deposit) is $350 and is non refundable (but transferable). Balance of $600 due on or before pick up.
*All puppies come with age appropriate vaccinations and parasite prevention.
*Veterinarian approved vaccination protocol. I administer Neopar at 5 weeks. Puppies receive a hands on vet check at approximately 7.5 weeks, this visit also includes a fecal test and core combination vaccination administered by our vet. Proof is provided.
*Puppies stay with their mother and siblings for 8 weeks.
*Puppies undergo age appropriate socialization and enrichment activities. Proper socialization means puppies are introduced to new stimuli daily. This includes but not limited to sights, sounds, textures, surfaces, smells, objects, people. New stimuli is always paired with positive reinforcement.
*Our puppies are raised with Puppy Culture. This program has specific protocols that are age and developmentally specific.
*Video and Photo updates posted several times a week, if not daily.
*Live streams with puppy families only. Discuss development, watch protocols, problem solving common puppy issues and more.
*Puppies are introduced to potty/potty box training, crate conditioning and clicker training (protocols coincide with Puppy Culture).
*Puppies leave with a puppy pack that often includes, food, toys, blanket with mom and siblings scent, a variety of samples from different canine companies, medical records, 30 day free Trupanion pet insurance, NuVet Samples, Puppy Culture Exercise Booklet, puppy info packets, training information, etc.
*Puppy also leave with a contract that includes, spay/neuter contract, return clause, health guarantee and genetic guarantee. Pick up takes place off my property.
We are NOT blue eyed breeders. We do not breed for eye color, coat color or coat type! Our focus is on healthy companions. All eye colors and combinations (blue, brown, amber, bi eyes, parti eyes, etc) are possible and with our momma's having brown eyes they are not only possible but probable. If you are ONLY seeking blue eyes, we are not the breeder for you!
ALL due dates are estimated. Studs are subject to change. We reserve the right to take first pick of any litter and or hold back any puppy for evaluation.
Puppies Due Late March 2023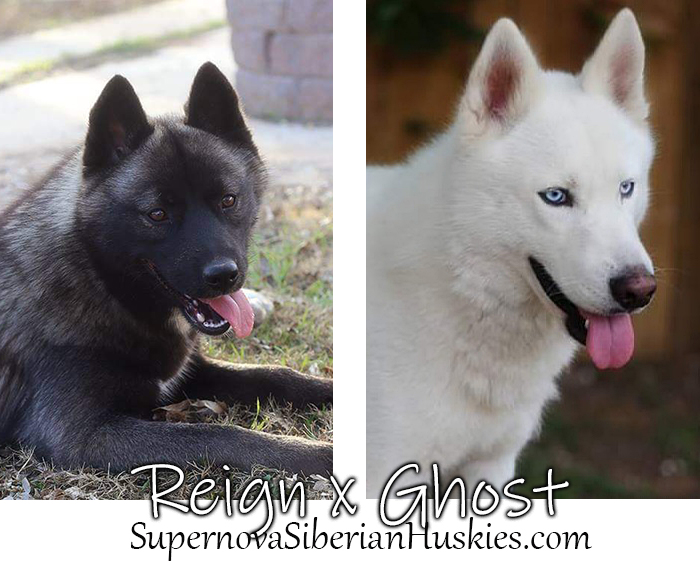 Reign and Ghost have been paired. Puppies are due the last week in March. Reign is our gorgeous dark agouti, brown eyed, spitfire. She has a wonderful pedigree with both champion show and working lines She is a lil thing with tons of personality. Ghost is laid back, calm and a very loving boy. He wants nothing more than to cuddle and give loves. This is the second pairing for these two. I loved the first pairing so much I kept a puppy, Mazikeen from that litter. I have also reserved first pick from this litter. This will be a ckc registered litter.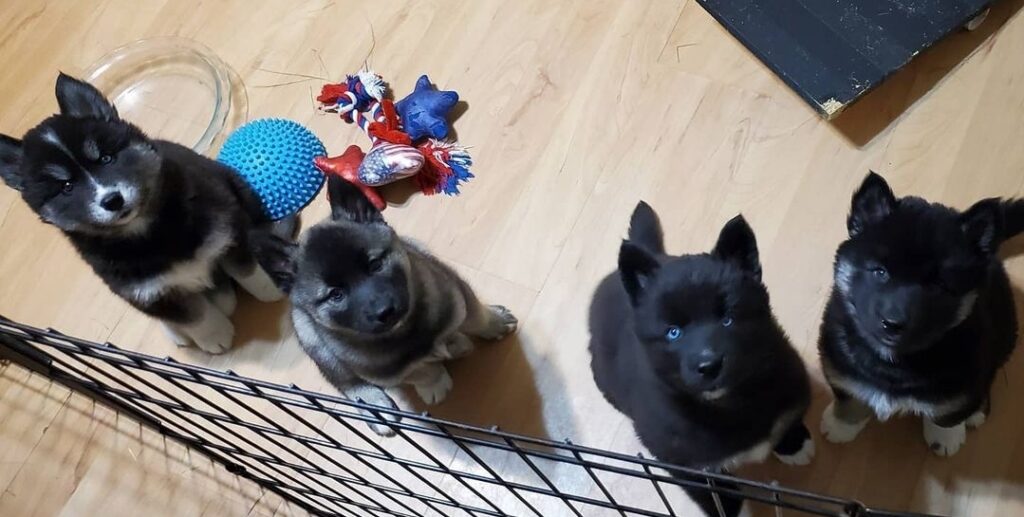 1st Pick: Supernova Siberians
2nd Pick: Neil G.
Puppies Due Early April 2023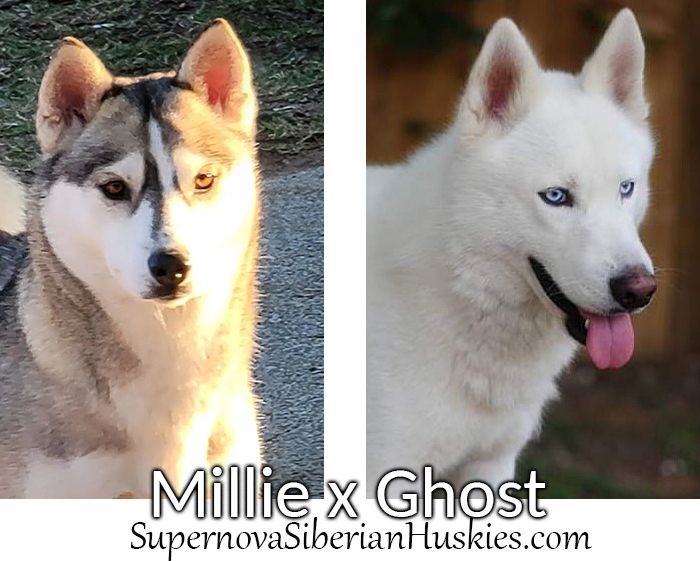 Millie was suppose to be paired with Jasper but she completely rejected him. We put her with Ghost and she was a happy girl. I guess the heart knows what it wants. 😀 Puppies are due very early in April. Millie is the daughter of our Reign and Tyrion. She was a puppy when I took my Puppy Start Right for Instructors course and was my first student. She trained very easily. She is very much my companion dog. She seems to sense my moods easily, and she offers lap covers and cuddles that easily calms my anxiety. Ghost is our lover boy who only wants to love and get belly rubs. This will be a ckc registered litter.
1st Pick: Margareta D.
2nd Pick: Available
Puppies Due Early April 2023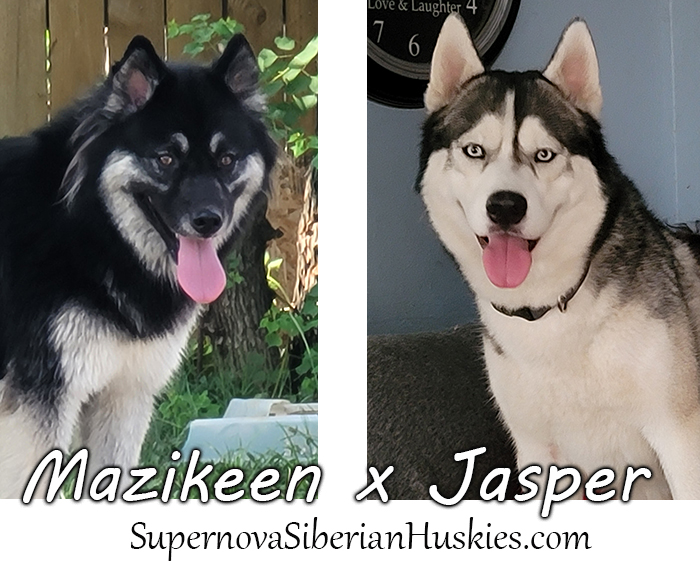 Mazikeen is two years old and this is her first litter. Puppies are due very early in April. Maze is out of our very own, Reign and Ghost. She is fun loving, cuddle bug. She was the baby of our pack until recently and it shows. Jasper is our gorgeous boy with fantastic pedigree. His grandfather is a US Champion. He is a big goofball who is fun, active and free spirited. I think this is a very fun pairing.
Based on pedigree I think we can expect both non traditional and traditional coat colors and standard to plush coats. We are excited to see what these two beauties produce.
1st Pick: Pedro H.
2nd Pick: Available
Remaining Planned Pairings 2023
Below are the remaining planned litters for 2023. Pairing has not taken place yet, and all litters are estimated. I will take deposits once breeding has been confirmed.
Winter x Jasper: We plan to skip Winter's next heat and pair her with Jasper late 2023. This will more than likely be Winter's final litter.
*Due dates: All due dates are estimates based on first tie/pairing. Actual whelping date can vary by several days based on the ovulation date. We can not control nature.
(C)2012-present SupernovaSiberianHuskies.com TexasHuskies.com Do not copy or repost without written consent.