*Pups $850 (ckc or akc limited registration) (spay/neuter contract) *due to price increases from healthcare to basic care supplies, Puppy Prices will increase to $900 in 2021.
*Holding fee (deposit) is $300 and is non refundable (but transferable). Balance due on or before pick up.
*All puppies come with age appropriate vaccinations and parasite prevention.
*Veterinarian approved vaccination protocol. I administer Neopar at 5 weeks. Puppies receive an 8 week check up, fecal test and core combination vaccination administered by our vet. Proof is provided.
*Puppies stay with their mother and siblings for 8 weeks.
*Puppies undergo age appropriate socialization and enrichment activities.
*Our puppies are raised with Puppy Culture. This program has specific protocols that are age and developmentally specific.
*Video and Photo updates posted several times a week, if not daily.
*Live streams with puppy families only. Discuss development, watch protocols, problem solving common puppy issues and more.
*Puppies are introduced to potty training, crate conditioning and clicker training.
*Puppies leave with a puppy pack that often includes, food, toys, blanket with mom and siblings scent, a variety of samples from different canine companies, medical records, 30 day free pet insurance, NuVet Samples, Puppy Culture Exercise Booklet, puppy info packets, etc
*Puppy also leave with a contract that includes, spay/neuter contract, return clause, health guarantee and genetic guarantee.
UPDATE: Due to COVID19 there will be NO in person visits and pickup will take place off my property.
ALL expected litters are estimated. Studs are subject to change. We reserve the right to take first pick of any litter.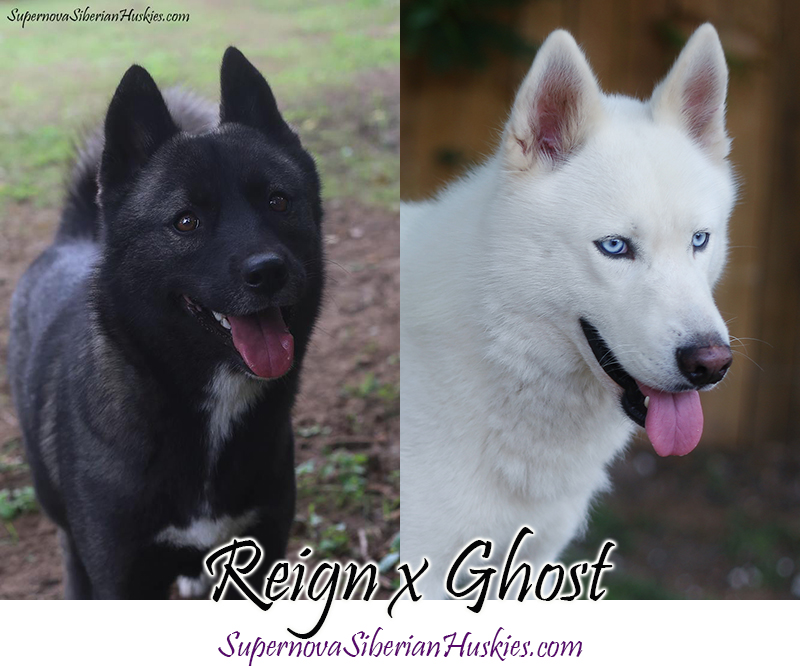 Litter expected early November 2020
Reign (akc/ckc) is our stunning dark agouti, standard coat beauty. She comes from strong Champion and Working lines (within first 4 generations). Reign is high energy, and very playful. She loves chasing birds, playing with her pack and cuddles. Ghost (ckc with akc pedigree) is a beautiful white with a standard plush coat. He is laid back, playful and a serious cuddle bug. He is the perfect companion. Based on pedigrees we can expect Agouti, Black, Tan and White and traditional colors like Black and White as well as Grey and White. We have a slim chance of whites but honestly I don't expect it. I also do not expect red n white. A variety of coat types from standard to woolly are a possibility. Brown and blue eyes are expected but bi eyes and parti eyes are possible. There are no guarantees. But I promise brown eyes love you just as much as blue eyes!
Pre birth deposits are reserved. The remaining deposits will be taken once the litter is born. Please fill out a puppy application and contact me if you are interested in this CKC litter.
Supernova Siberians *
Kaylin M.
Ben W.
*females will be held back for evaluation. This can take 3-4 weeks.
(C)2012-present SupernovaSiberianHuskies.com TexasHuskies.com Do not copy or repost without written consent.