*Pups (ckc and/or akc limited registration) $850 (spay/neuter contract)
*Holding fee (deposit) is $300 and are non refundable (but transferable). Balance due at pick up.
*All puppies come with age appropriate vaccinations and parasite prevention.
*Puppies see the our vet before leaving. They receive a check up, fecal test and core combination vaccination. Proof is provided.
*Puppies stay with their mother and siblings for 8 weeks.
*Puppies undergo age appropriate socialization and enrichment activities.
*Our puppies are raised with Puppy Culture. This program has specific protocols that are age and developmentally specific.
*Video and Photo updates posted several times a week, if not daily.
*Video Chat to view your puppy one on one in real time is available.
*Puppies are introduced to potty training, crate conditioning and clicker training.
*Puppies leave with a puppy pack that often includes, food, toys, blanket with mom and siblings scent, a variety of samples from different canine companies, medical records, 30 day free pet insurance, NuVet Samples, puppy info packets, etc
*Puppy also leave with a contract that includes, spay/neuter contract, return clause, health guarantee and genetic guarantee.
We are not currently accepting deposits.
Due to COVID19 our Fall Litters (listed below) are on hold. We will reassess the situation as we get closer to the time of breeding.
ALL expected litters are estimated. Studs are subject to change. We reserve the right to take first pick of any litter.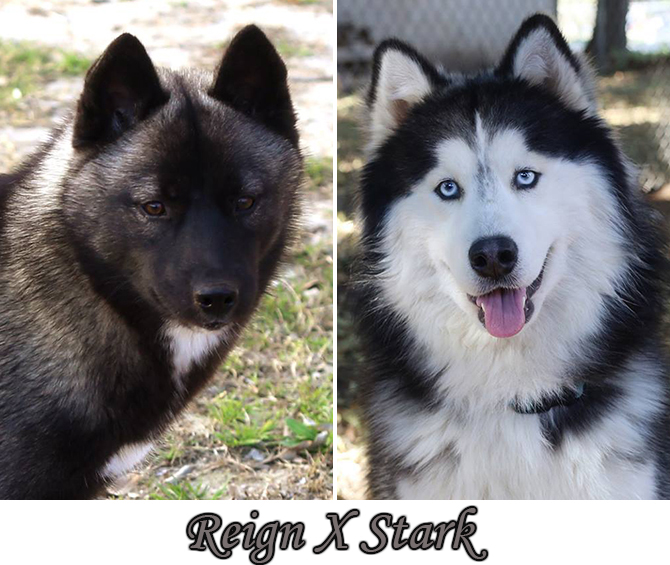 Reign (akc/ckc) is our stunning nontraditional dark agouti, standard coat beauty. Reign is high energy, and very playful. She loves chasing birds, playing with her pack and cuddles. Stark (ckc) is a traditional black and white with a gorgeous woolly coat. He is laid back, loves going bye-bye, enjoys parks, he is the perfect companion. Their previous litter produced 3 woolly coat babies but all coat types are possible. Brown eyes and blues are likely with the possibility of parti eyes and bi eyes. All 3 babies from their previous litter were different colors. We had a dirty faced, black and white, we also had a solid face, mostly black and a gorgeous traditional grey and white. A variety of colors are possible.
We are currently NOT taking deposits.
Pick 1: RESERVED (Female)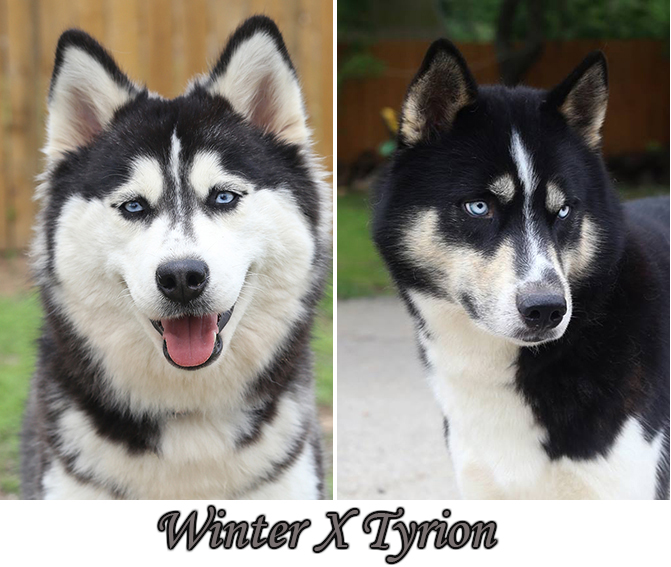 Winter (ckc) is very much like her daddy, Stark! She has a very soft and plush semi woolly coat, and is a traditional black and white. She is a sweetheart. One of the more laid back members of our pack, but still loves to play chase with the pack. Tyrion (akc/ckc) is our non traditional black tan and white boy! He is low content "Seppala" and many of his off spring favor those working lines. Tyrion is attentive, kind, eager to please, alert, and easily trained. Their past litters have produced a huge variety of puppies. Colors include, Black & White, Grey & White, Black, Tan & White, Red& White. They have produced blue eyes, bi eyes and parti eyes, though brown is always a possibility. Coats include standard, standard plush,and semi woolly.
We are currently NOT taking deposits.