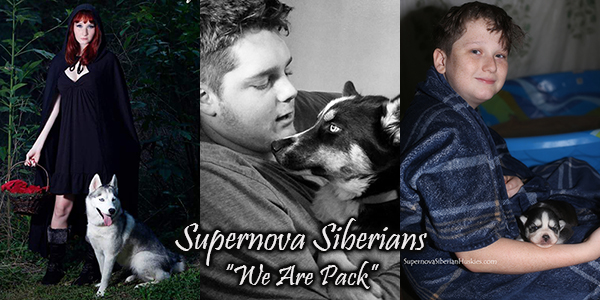 About Us: Our family is a close knit family that loves, argues, makes up and loves some more! My husband is ex military and currently works as a construction project manager. I currently work as a substitute teacher. I enjoy working with kids and love that the job allows me the flexibility I need. I grew up with dogs. My mom bred and showed Shelties. As a teen I participated in both conformation and obedience classes at Rob Cary Kennels (Now Rob Cary Pet Resort) in San Antonio. I accompanied my mother to dogs shows all over Texas and assisted her in the ring if she was showing multiple dogs at a time. I have 3 children, 2 step children ( ranging in age from 27 to 12), and 2 grandchildren. My family including our pack are my world.
Our Pack: Our pets are our family! My family fell in love with the Siberian Huskies over 9 years ago. We have ten pack members, four are altered (fixed) and six are not. Our dogs health, safety and comfort are our top priority. Our dogs are on a diet that includes high quality kibble, vitamins, and fresh foods that often include cooked or raw meat and pet safe fresh fruits and veggies. Our dogs are inside and outside dogs. They have free reign of our fenced in yard and of our home. You can find them chasing each other around the yard, passed out on the couch, or at my feet while I cook. All of our dogs are crate trained. We make use of dog crates, and doggy gates inside when needed, we also have doggy kennel rooms (with air conditioner, ceiling fans and doggies doors to the outside). All of our dogs are up to date on vaccinations and see the vet regularly.
Other Pets: We have a house cat, fish and 5 chickens. We raise chickens to provide our family and pack with farm fresh eggs.
Working Our Dogs: At this time we train all our dogs in basic obedience. We have started to build an agility course in our yard for added stimulation and fun. In addition to basic obedience we hope to begin dry land mushing with the younger members of our pack.
Pregnancy and Whelping: We take care to only breed our girls if we feel they are healthy and in top shape. Our girls currently cycle every 8-9 months. All of our litters are planned out based on how our girls have bounced back from a previous litter, how healthy they currently are, and also if we will have the time to dedicate to the litter. Our girls take prenatal and postnatal vitamins. We keep a close eye on our girls during both pregnancy and whelping. They will see our vet at any sign of trouble. My flexible work schedule allows to to be home when the pups are born. During labor I try to monitor their progress, offer comfort and support and only step in and assist if needed.
Newborn Through Eight Weeks:
*Starting a just a few days old our pups are handled and begin Early Neurological Stimulation. Pups undergo age appropriate socialization and enrichment activities. They will come in contact with all sights, sounds, and smells, of daily household living. We take care to make sure that they are desensitized to common sounds. We use different voice levels, play music, run appliances, we play firework sounds, as well as nature sounds including thunder storms. UPDATE: I have recently invested in the Puppy Culture Program and have started to incorporate Puppy Culture Protocols into our program. I am always willing to try new things if it will help me raise a more well rounded pup.
*Pups are on a strict de worming and vaccination schedule. They will see the vet at any indication that something is wrong. All pups visit the vet before going home for a full hands on check up and fecal testing. If anything is found they will be treated and not released unless the vet says they are healthy are ready to go. Proof of all medical care is provided to you!
*Momma's have the ability to come and go as they see fit. We never force moms to stay in with older pups nor do we force them to stay away. We trust them to nurture and care for their pups. We only step in if we foresee any issues. Pups nurse as long as momma allows, we do not force wean. We do begin puppy mush at about 3 weeks. We wean all of our pups on Victor Ultra Pro. Pups are also given probiotics, as well as supplements.
*Our potty training method is based loosely on The Misty Method. We have altered it sightly to suit our needs. Pups are raised with specific sleep, play, and potty areas. They naturally use the potty area (potty pads) and transfer slowly to a potty box with pads on the bottom and hay/straw on top. Hay is the most grass like "litter" we can find and we feel the transition to outside is seamless. We have had great success with our method of potty training. It will be up to you to continue with potty training.
*We use basic commands in our daily interactions with the pups. Your puppies do not leave trained but they are familiar with terms and have started to associate words with actions. (easy, sit, down, wait, drop it, etc) We recommend that you continue training or enroll them in a puppy class as soon as possible.
*We also introduce crate training. The process of introducing the crate is always positive with lots of treats and praise. Starting at 6 weeks we play "crate games" to get them use to the crate. It will be up to you to continue crate training once the pups are home.
*All of our pups stay with mom for 8 weeks. This is a must for proper social development. We have been known to release them a few days sooner to accommodate out of state trailers, please contact me for more info. Our pups will never be released before they receive their complete vet check.
Going Home: Pups will go home after they get the all clear from the vet. I will not allow the to leave before then. They will go home with a contract (you should have already read and agreed to it), medical records, puppy pack, blanket, toys, information sheet, 72 hour health guarantee and a genetic guarantee, etc. We DO NOT require that you keep your puppy on Nuvet in order to receive our guarantee!
*Pups go home at eight weeks and final payment is due at that time. Arrangements can be made if pup can not be picked up, but final payment is still due at that time. You can not put off pick up in order to put off payment!! Dogs staying past 8 weeks may be charged a boarding fee.